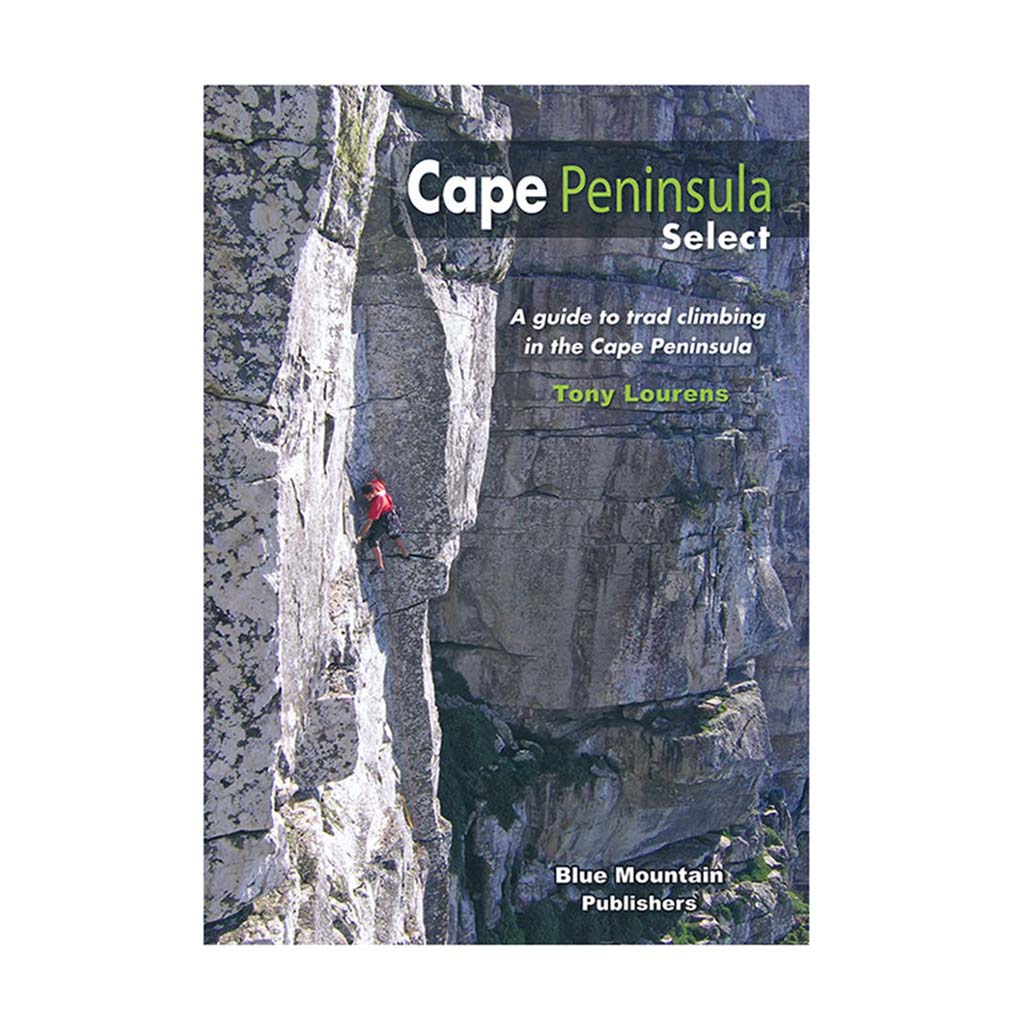 Description

Shipping, Exchanges & Returns

Fit

Get it now, pay later
A guide to trad climbing in the Cape Peninsula, by Tony Lourens.
There can be very few places on Earth where such a variety of world class climbing lies within the boundaries of a huge city. The entire Peninsula is dominated by the majestic Table Mountain chain that starts in the north with the impressive front faces of Table Mountain overlooking the bustling city of Cape Town, and runs south along the backbone across 60 kilometres of unspoiled mountain crags, culminating in the wild and beautiful Cape Point Reserve on the extreme southern tip.
Climbing anywhere on the Peninsula, you are always rewarded with stupendous mountain scenery and glorious sweeping views of the mighty oceans that surrounds the boney Table Mountain chain.
If you are looking for wild exposed climbing in a high mountain setting then The Ledge on Table Mountain is where you want to be. This is the showcase of trad climbing on the Peninsula and here you will find excellent climbing on bullet-hard sandstone that will rival routes anywhere in the world.
Shipping, Exchanges & Returns
Free shipping on orders over R900.
Orders are dispatched within 1 day of receiving your order. We deliver using reputable 3rd party couriers and you can expect delivery within 1-5 working days depending on your location.
Concerned about the environmental impact or need your product sooner? We also offer convenient collection from one of our stores.
Returns & Exchanges
Unsure of your size? Can't choose between two of our products? Why not contact our customer service team? The less unnecessary shipping the better.
Returns and exchanges are always possible
GET IT NOW, PAY LATER
Pay 4 interest-free instalments of R90.00 using PayFlex.
LEARN MORE

R90.00 every 2 weeks. No interest, no fees, no catch. Pay in 4 equal instalments, due every 2 weeks. You can apply in checkout.