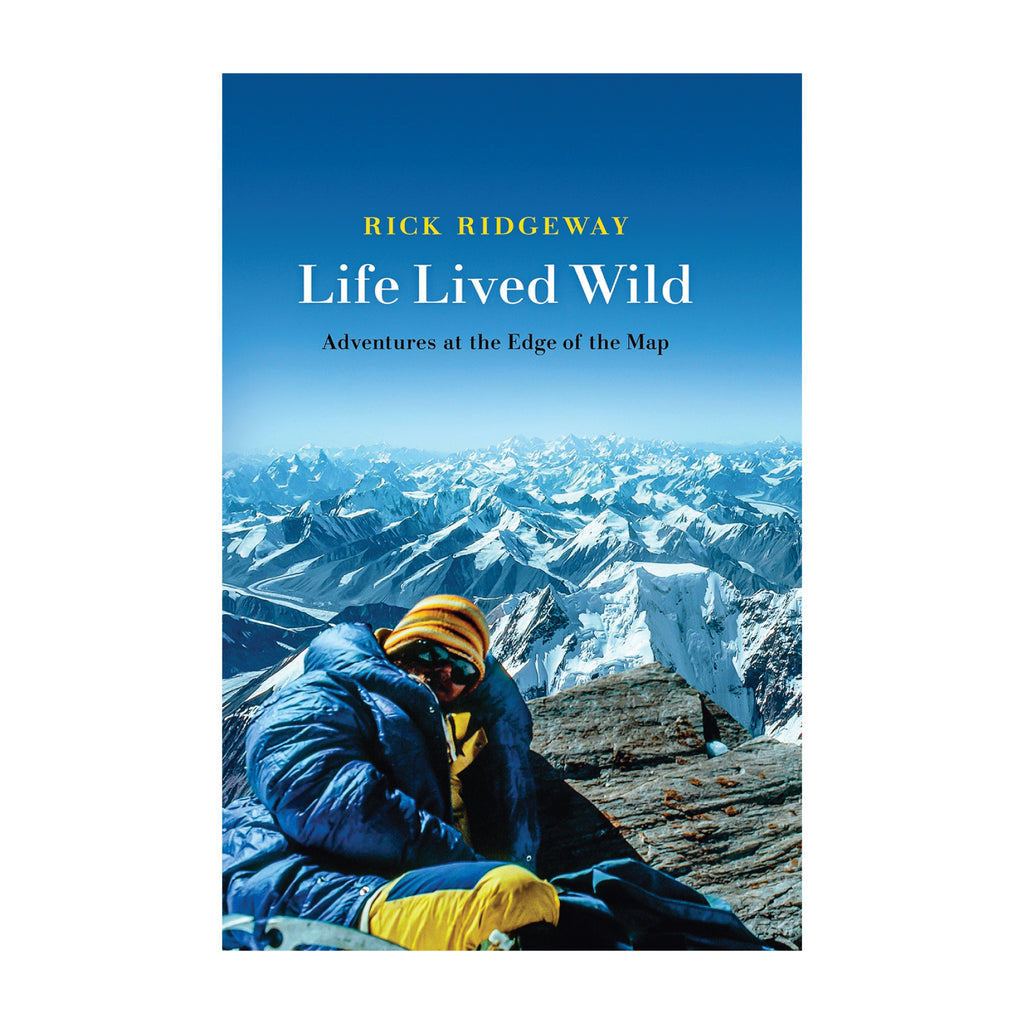 Description

Features

Shipping, Exchanges & Returns

Fit

Get it now, pay later
Rick Ridgeway calculates that he's spent over five years of his life sleeping in tents: "Small tents pitched in the world's most remote regions." Whether at elevation or raising a family at sea level, those years taught him, he writes, "to distinguish matters of consequence from matters of inconsequence." Some of his adventures made news: the first American ascent of K2; the first traverse of Borneo; the first crossing on foot of a corner of Tibet so remote no outsider had ever seen it. Big as these trips were, Rick kept an eye out for the quiet surprises, like the butterflies he encounters at 23,000 feet on K2 or the furtive silhouettes of eared pheasants running wild in Tibet. What really comes alive in Life Lived Wild are his relationships with his fellow travelers, such as Patagonia founder Yvon Chouinard, The North Face founder Doug Tompkins, and filmmaker Jimmy Chin. Some companions don't make the return journey. Rick treats them all with candor and straightforward tenderness. And through their commitments to protecting the wild places they shared, he discovers his own.
About the Author By the time he was thirty, Rick Ridgeway had gone on more adventures than most people do in an entire lifetime. Called "the real Indiana Jones" by Rolling Stone magazine, Ridgeway doesn't shy away from unknown territory. In fact, he seeks it. Ridgeway is recognized as one of the world's foremost mountaineers. He was part of the 1978 team that were the first Americans to summit K2, the world's second-highest mountain, and he has climbed new routes and explored little-known regions on six continents.Ridgeway is also an environmentalist, writer, photographer, filmmaker, and businessman. For fifteen years beginning in 2005 he oversaw environmental affairs at the outdoor clothing company Patagonia. Before joining Patagonia, he was owner/president of Adventure Photo & Film, a leading stock photo and film agency. He has authored six books and dozens of magazine articles and produced or directed many documentary films. He was honored by National Geographic with their Lifetime Achievement in Adventure Award and was awarded the Lowell Thomas Award by the Explorers' Club. Ridgeway serves on the boards of Tompkins Conservation and the Turtle Conservancy. He lives in Ojai, California.
Specifications
424 pages, full-color throughout; Over 150 photos and maps; 6 X 9 inches and Printed on 100% postconsumer recycled paper
Endorsements
"Rick Ridgeway . . . captures the essence of a lifetime of story-telling." – Jimmy Chin, filmmaker
Shipping, Exchanges & Returns
Free shipping on orders over R900.
Orders are dispatched within 1 day of receiving your order. We deliver using reputable 3rd party couriers and you can expect delivery within 1-5 working days depending on your location.
Concerned about the environmental impact or need your product sooner? We also offer convenient collection from one of our stores.
Returns & Exchanges
Unsure of your size? Can't choose between two of our products? Why not contact our customer service team? The less unnecessary shipping the better.
Returns and exchanges are always possible
GET IT NOW, PAY LATER
Pay 4 interest-free instalments of R174.75 using PayFlex.
LEARN MORE

R174.75 every 2 weeks. No interest, no fees, no catch. Pay in 4 equal instalments, due every 2 weeks. You can apply in checkout.