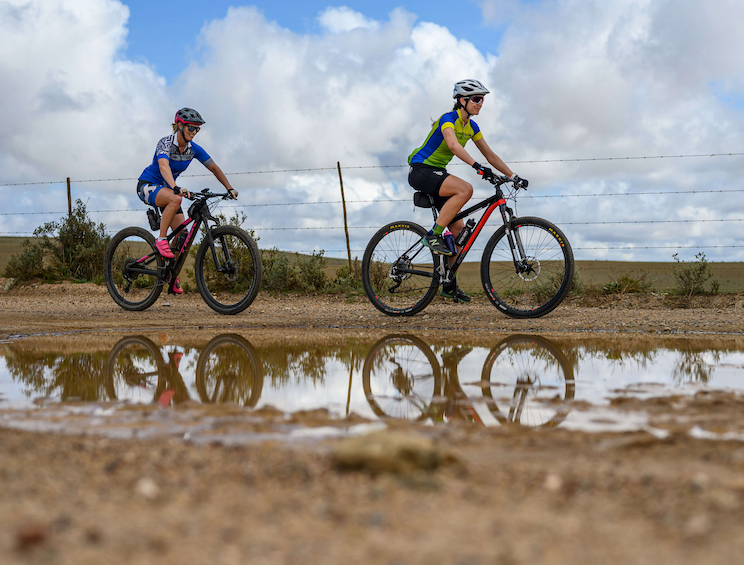 Submitted by: 
Troy Davies (@retroyspective)
Where is your MicroAdventure located? 
Swellendam, Overberg
How long is the MicroAdventure in total, out and back? 
160km
Give the people a short description of your MicroAdventure.
It started out as an idea, let's ride from Swellendam to Witsands, camp there for the night and ride back. That idea evolved into a starting point on a friends farm in the Swellendam and an overnight stay at the Breede River lodge (glamping 101). So I joined two tough betty's - both ex stunt women in the movie industry on a cycling adventure.
Most of the route we took forms part of the Around the Pot bike race and the conditions of the roads are awesome, easy to find a smooth line in between the corrugations and very achievable on a gravel grinder or mountain bike. As it was our first time on this route we decided not to camp or carry lots of baggage and stay overnight at a lodge located close to the Breederiver mouth in Witsands.
So we packed our baggage in the support vehicle and set off on a 80km each way trip. Even though the roads are in great condition its not an easy ride with roughly 1100m of elevation over 80km and a little more on the return journey with never ending rolling hills and with our bad luck a stiff headwind for most of the way there.
One of the highlights of the trip was a lunch stop at the Breede river Trading post just before the Malgas pont crossing. We were treated to skaapstertjies and chips and when I asked for a coke instead of a beer I received a brandy and coke .... it may or may not have aided in a full power approach for the last 35km of the ride straight into the wind :) might have to rethink my energy drink of choice.
Once we arrived in Witsands we were greeted with a fantastic river view and the last of the fisherman returning before dark. We opted for a braai and a glass of wine and called it a night. The way home was a mirror image of day one but with a little rain in the morning we dipped the bikes in the Breeder river crossing for a quick wash, had breakfast at Grunters and then rode the same route home with a gentle tail wind.
The best part of this adventure is the open space, quiet roads, lots of sheep(s), birds of prey and plenty of wildlife to see along they way.
How do you get to the start? Please share some directions. 
You can start in the town of Swellendam and follow the gravel road route to Witsands
How much did it cost (per person)? 
R501 - R1,000 per person

Best time to go? 
Anytime

A quick note about safety. Can you do it solo? Do you need a crew? 
You can go Solo but would need to carry everything. Best shared with friends
Do you need any special permissions / permits? 
No
How difficult is the MicroAdventure? 
5 out of 10
3 pro tips for people wanting to do this:
Haribo bears ... pure energy
Coffee with Amarula in the evenings
Freewheel the downhills  
______________________
Have a micro adventure you want to share? 
Submit it
HERE

__________________
____