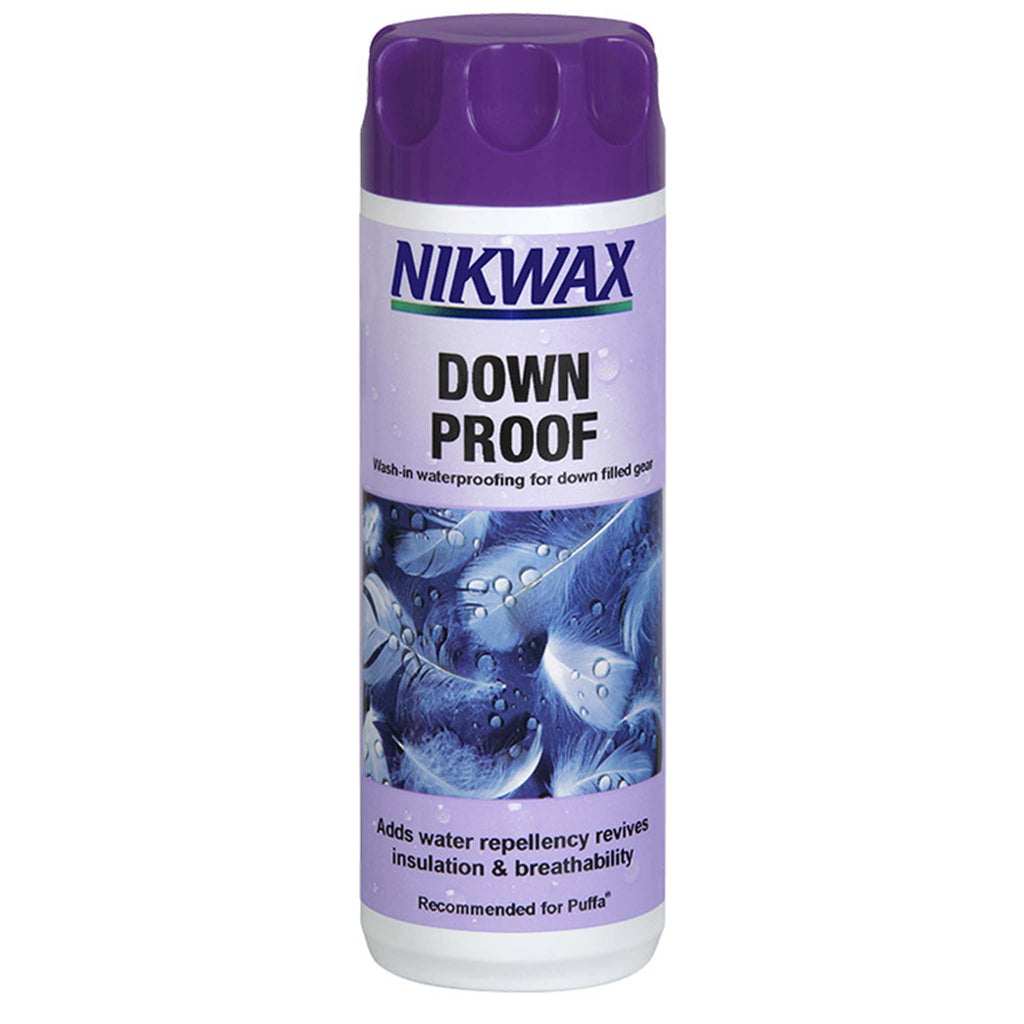 Description

Shipping, Exchanges & Returns

Fit

Get it now, pay later
Easy to use, safe, high performance wash in waterproofing for down filled clothing and gear.
Adds Durable Water Repellency; reducing weight gain, maintaining the insulation and breathability of down filled items in cold and damp conditions.
For best results remove all non-washable parts and clean item(s) first with Nikwax Down Wash™ in a separate wash cycle. No need to dry item(s) before waterproofing. Shake well before use. Follow care label instructions (large items can be treated by hand).
Remove all detergent build up from the detergent dispenser.
Place clean item in washing machine (maximum 1 item).
Use 150ml for 1 item.
Run 30°C synthetic cycle and slow spin.
After the cycle has finished run multiple spin cycles, each time incrementally increasing the spin speed, to remove excess water.
To maintain waterproofing always wash with Nikwax Down Wash™. Do not use detergents.
To get the maximum amount of water out of your down it's best to spin dry multiple times, each time incrementally increasing the speed of the spin cycle. Wet down is heavy, so if items are spun too quickly while still holding a large amount of water it is possible that internal baffles may be broken.
Nikwax Down Proof™ treated items need no heat to develop water repellency. However, tumble drying is recommended (if care label allows) to ensure that the down is dried thoroughly and as quickly as possible. Leaving down wet or damp can ruin it completely. Tumble dry according to manufacturer's instructions on a low setting until clumps have disappeared. Ensure that there is sufficient room in the tumble drier to house the item once dry, as items will return to their original size during the drying process.
Teasing apart clumps repeatedly during drying process will help restore loft to the down.
After tumble drying it is recommended to air item(s) for at least a day in a warm and dry space, prior to packing away.
Shipping, Exchanges & Returns
Free shipping on orders over R900.
Orders are dispatched within 1 day of receiving your order. We deliver using reputable 3rd party couriers and you can expect delivery within 1-5 working days depending on your location.
Concerned about the environmental impact or need your product sooner? We also offer convenient collection from one of our stores.
Returns & Exchanges
Unsure of your size? Can't choose between two of our products? Why not contact our customer service team? The less unnecessary shipping the better.
Returns and exchanges are always possible
GET IT NOW, PAY LATER
Pay 4 interest-free instalments of R32.25 using PayFlex.
LEARN MORE

R32.25 every 2 weeks. No interest, no fees, no catch. Pay in 4 equal instalments, due every 2 weeks. You can apply in checkout.