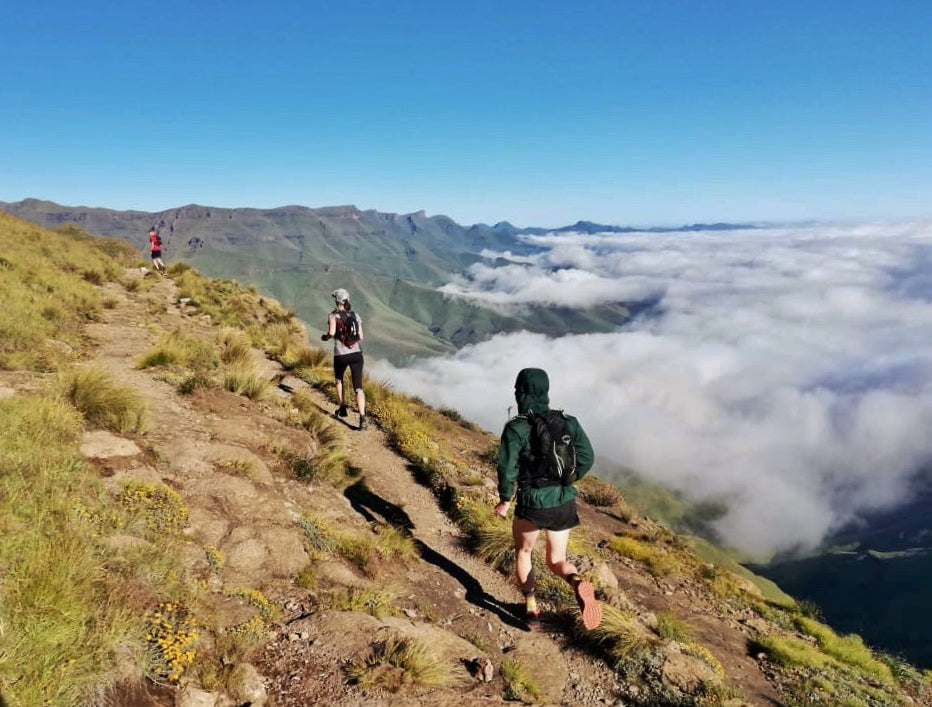 Submitted by: 
Luke John Roberts
https://www.instagram.com/lukalacious/
Where is your MicroAdventure located? 
Free State, Sentinal Car Park

How long is the MicroAdventure in total, out and back? 
±4.5 hrs; 25km

Give the people a short description of your MicroAdventure.
The MA starts at Sentinel Car Park and you head straight up to the top of the escarpment. You can run for the first 1km or so then it gets too steep. The scrambling begins! Lots of switchbacks with a few flat sections to recovery and have an easy run.
Once you get to the top of the Berg you head to Mont Aux Sources. There isn't really a trail but we wanted to tag the summit anyway. From the top we headed over to a cave or two and then to the edge where we overlooked the mighty Tugela Falls. What a stunning view.
You can always run from the top of the ladders to the top of the falls which should cut out ±10km. We came down a steep gully from Beacon Buttress instead of the chain ladders for diversity.
It's a very fun run from the bottom of the gully and chain ladders tot he car park but its super tech so be wary. The fee is R90 when you sign the mountain register but all in with petrol for 5 people = 350-400 each for the day (gas, chow, fee, vibes).
How do you get to the start? Please share some directions. 
We left Jozi at 0300 and arrived just after 0700. The last dirt road is pretty bad to take an AWD vehicle or bakkie at least. You head south down the N3 to Warden, shoot off right to Kraansfontein and then again down to Phuthaditjhaba. You then get onto the dirt road at the end of the town and it takes you straight up to the car park. 
How much did it cost (per person)? 
R251 - R500 per person
Best time to go? 
We did it in a day, but the driving is intense. You can camp at the top which must be BEAUTIFUL in the morning. I'd suggest autumn as the prime time.
A quick note about safety. Can you do it solo? Do you need a crew? 
Solo is fine but it's quite a mission, so rope in some mates. It was super busy when we were heading back down so safety shouldn't be an issue.

What sport is this adventure most related to? 
Hiking & Trail Running
Do you need any special permissions / permits? 
Nope
How difficult is the Micro Adventure? 
8 out of 10








__________________
________
__________________
________
Have a micro adventure you want to share? 
Submit it
HERE

__________________
________