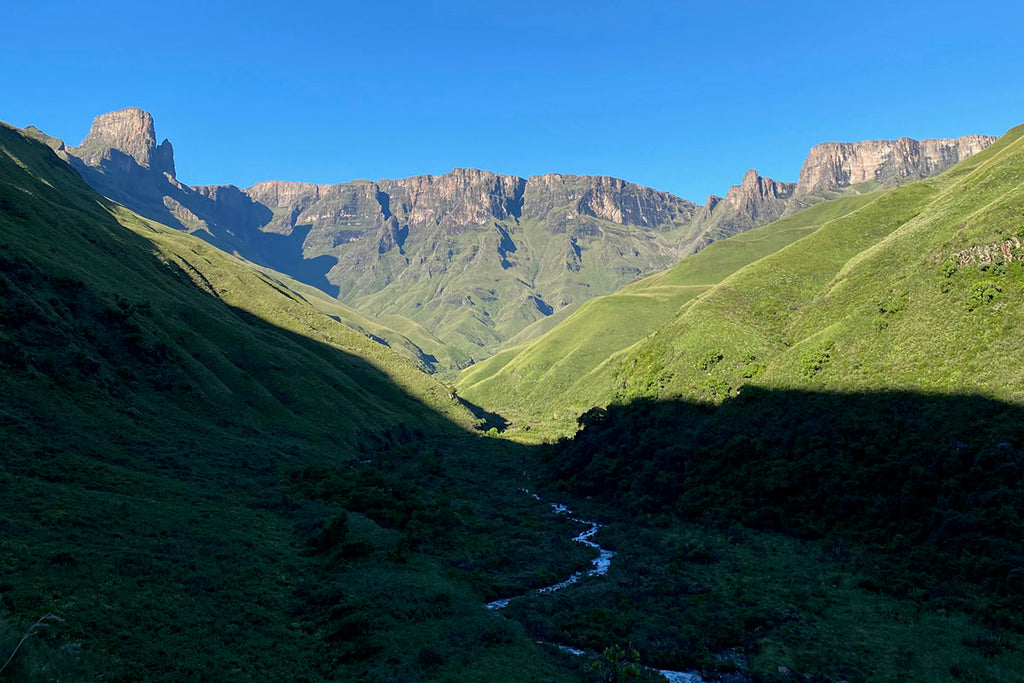 Submitted by:
Kurt Martin
@kurt_martin_
Difficulty:
7/10
Most suited to:
Hiking
Where is your Micro Adventure located? 
Injisuthi, near Estcourt, KwaZulu-Natal
How long is the Micro Adventure in total, out and back? 
About 30km / two days
Give the people a short description of your Micro Adventure.
Take the Marble Baths trail that begins about 1km from the campsite. You'll want to buy the detailed map from reception as the paths are not very well marked at some points. The hike is a ~25k round trip, one day 10km and the other 15km. You can do it in any order. We made the 10km hike first, to Marble Baths, a distinctive feature in the river - you'll know it when you see it. Long smooth bumslides in the sandstone make for an unforgettable swimming spot. Above the river are the marble baths caves, one smaller and one much bigger. Keep your eyes out for cave paintings. We spent a night in the bigger one.
The next day started with coffee in the cave as the sun crept down the ridge opposite us. A chilly swim, across the river and we were making the grueling climb to 2200m, along the ridge line and down into the next valley back towards camp. We came across a Cape Vulture nest up there. Spectacular views from the top of the "old woman grinding corn", Cathkin Peak, Monk's Cowl and more as you move along.
This next day was the longer hike and we were buggered by the end — the unmaintained path led to us losing our way, a lot of bundu bashing and vertical climbs up steep pitches. It's possible to spend a second night in one of the Grindstone caves on the way back. Just bring enough food! We arrived back in time for lunch at the campsite, another swim and a long snooze in the sun before the afternoon summer storm drove us back into our tents.
How do you get to the start? Please share some directions. 
A friend and I met at Injisuthi in the Central Drakensberg. Book through the Ezemvelo central bookings number (google it). I made my way there in 2 hours from Pietermaritzburg. He came down in about 6 hours from Dullstroom. You'll really want a 4x4 for the last km or so. (His Kia Rio was making some interesting noises on the rough road).
How much did it cost (per person)? 
R251 - R500 per person
Best time to go?
Any time, just make sure you are familiar with the temperamental weather and distinctive character of the seasons in the Berg — winter would be very dodgy without proper gear.
A quick note about safety. Can you do it solo? Do you need a crew? 
Always best to go with a mate, preferably one who knows how to read a map (I might not have been able to write this otherwise)
Do you need any special permissions / permits? 
Yes - Book the cave in advance, and campsite if you want to have a base camp. Otherwise, you can leave from your car. There is a parking spot for overnight hikers, but best to stay a night before and leave nice and early to get as much time in as possible.
3 pro tips for people wanting to do this:
1. Be prepared. Detailed map from the reception is absolutely vital. Make sure you know what the seasons bring and dress accordingly and have the right kit.
2. Bring enough food — the hike's tough, but not far enough to start counting milligrams.
3. Quite a lot of admin but well worth it - best if you rope in someone who's done it before to sort all that out.
Bonus! Pick one item from goneoutdoor.com that would've come in handy / you wish you had for your Micro Adventure?
Luckily, I am a beast and came prepared! Mark would've loved a pair of Quandary pants for the bundu bashing though. He was terrified of a snake making its way up his broeks!
Have a Micro Adventure you want to share? 
Submit it HERE

RECOMMENDED GEAR FOR THIS MICRO ADVENTURE