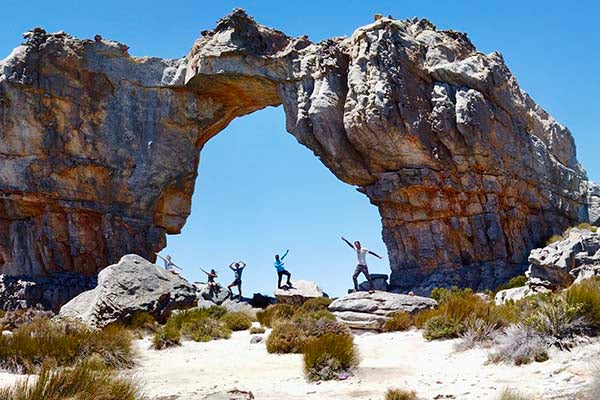 Submitted by:
Faheem Slamong
@faheem_slamong
Difficulty:
8/10
Most suited to:
Hiking / Climbing
Where is your Micro Adventure located? 
Cederberg, Western Cape
How long is the Micro Adventure in total, out and back? 
16.73km / About 7 hours
Give the people a short description of your Micro Adventure.
We camped at Algeria in the Cederberg which is about a 30min drive from the start of the hike. Starting at Sanddrif, we made our way through The Valley of the Red Gods and up Wolfberg Cracks. It was somewhat technical, but very doable and fully shaded thankfully. Once we reached the top we were fully exposed to the 35+ degree heat on the flat plain across to the famous Wolfberg Arch. Swimming spots are located close to Sanddrif, but we had an awesome spot at Algeria Campsite. The next morning we went for a short hike up to a waterfall.
How do you get to the start? Please share some directions. 
The start is at Sanddrif Holiday Resort, Cederberg which has a gated controlled access. Access code was provided once we secured our permits. https://goo.gl/maps/DkoYxzF9rQDQqBa6A
How much did it cost (per person)? 
R251 - R500 per person
Best time to go?
Best to do this is probably in the cooler months of the year, March-April / September-October due to the heat. Our next adventure there will most likely be in the middle of winter to experience some snow.
A quick note about safety. Can you do it solo? Do you need a crew? 
Ideally 3-4 people, due to the technical nature of Wolfberg Cracks, should anyone get injured.
Do you need any special permissions / permits? 
Yes - Permits are required for Wolfberg Cracks (R50) as it is on private land as well as another permit for Wolfberg Arch (R50) which falls under Cape Nature. Both permits can be purchased at Sanddrif Holiday Resort, Cederberg. Free if you have a Wildcard.
3 pro tips for people wanting to do this:
1. Pack a decent first aid kit and extra clothes just in case.
2. Stay within sight of your fellow hikers as it's fairly easy to get lost.
3. Make sure you have enough liquids & rehydate sachets, especially in summer months as there is no water available on the route.
Bonus! Pick one item from goneoutdoor.com that would've come in handy / you wish you had for your Micro Adventure?
Have a Micro Adventure you want to share? 
Submit it HERE

RECOMMENDED GEAR FOR THIS MICRO ADVENTURE