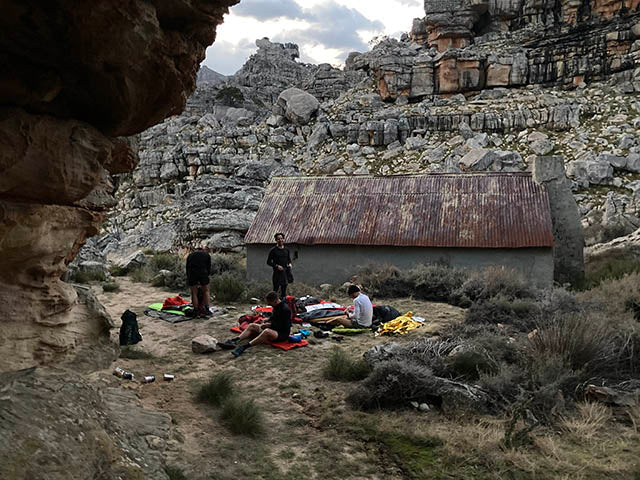 Submitted by:
Christiaan Roux
@cdroux
Difficulty:
5/10
Most suited to:
Hiking, Trail Running
Where is your MicroAdventure located? 
Cederberg, Western Cape
How long is the MicroAdventure in total, out and back? 
2 days. It's a 45-50km loop.
Give the people a short description of your MicroAdventure.
Heading out of the Mother City Cape Town just after lunch on the Friday, we arrived at Driehoek Guest Farm in the Cederberg a mere 3 hours later. A final gear check and off we went on the 18km section to Crystal Pools Hut.
The route took us from Driehoek to the bottom of the Welbedacht climb and from there we headed up an old jeep track to Uilsgatkloof, watching the sunset as we ascended up towards Grootlands Vlakte and then to Crystal Pools Hut on a mostly runnable single track.
With the weather gods on our side we set up camp behind the Crystal Pools Hut (moving into the Hut as a backup plan, should the weather turn). After scaring the wildlife away with some heavy snoring, we got up and started to get ready for day 2, which will be the longer day out. This was made a little bit more difficult with Larry forgetting the Aeropress and coffee, which he bragged about the day before. Day 2 started with a beautiful climb up Engelsmanskloof, after which we headed back down Die Trap jeep track towards Tafelberg.
We ditched our bags at the bottom of Tafelberg for a "quick" summit. The little bit of a scramble and the chain to get to the top is absolutely worth it. The terrain and the view from the top of Tafelberg is absolutely spectacular and was certainly the highlight.
We headed back down, picked up the bags and started the last 10km stretch home, down into Driehoek Farm via Gabriels Pass. An ice cold beer and an equally cold river made for some quick recovery and ready for the afternoon braai.
How do you get to the start? Please share some directions. 
We started at Driehoek Guest Farm, situated between Algeria and Sanddrift.
How much did it cost (per person)? 
R501 - R1,000 per person
Best time to go?
Anytime, but pack warm if not in the summer months.
A quick note about safety. Can you do it solo? Do you need a crew? 
You can do it solo, but it's always better shared with a friend or two.
Do you need any special permissions / permits? 
Yes - Cape Nature. R140 for an overnight permit plus R70 conservation fee. Book in advance or get from the permit office at Algeria.
3 pro tips for people wanting to do this:
1. Check and double check the weather. It can get extreme up there.
2. Make sure you know the routes and have a map or gps. No cellphone signal there.
3. Remember the coffee for the next morning.
______________________
Have a micro adventure you want to share? 
Submit it
HERE

__________________
____