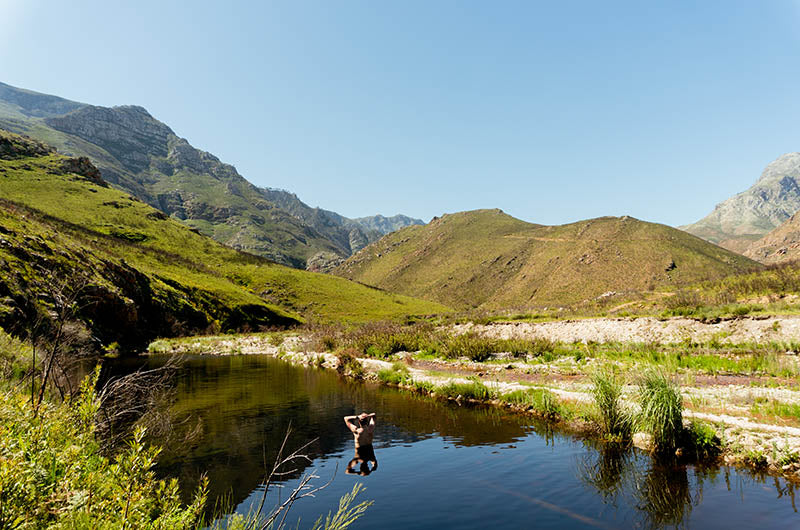 Submitted by:
Stephen James Rheeder
@stephenjamesrheeder
Difficulty:
5/10
Most suited to:
Hiking
Where is your MicroAdventure located? 
Greyton, Western Cape
How long is the MicroAdventure in total, out and back? 
30km
Give the people a short description of your MicroAdventure.
This was a hike up to the top of the Boesmanskloof trail, where we stayed overnight in one of the cabins and came down the same route the following day. 
We wanted to get out of the city for Heritage Day and found this the ideal adventure, as it rewarded with spectacular views of both Greyton and McGregor and wasn't very technical. It did require a lot of determination as the 1200 meters of climbing each day was definitely hard.
How do you get to the start? Please share some directions. 
The official start is the entrance of Greyton Nature Reserve, found at the end of Greyton. There's plenty of shaded parking.
How much did it cost (per person)? 
R0 - R250 per person
Best time to go?
Start as early in the morning as possible, but definitely stay overnight for the spectacular starry sky. Best seasons would be autumn and spring to avoid heat and rain.
A quick note about safety. Can you do it solo? Do you need a crew? 
You can do it solo, there were also many other solo hikers, but I'd suggest bringing friends along - it's double the fun!
Do you need any special permissions / permits? 
Yes - Greyton Tourism does not issue permits over weekends, permits should be booked in advance to avoid having more than 50 people on the trail per day. Contact the Greyton Tourism office to buy your permit. R50 for permits, R200-R250 for accommodation.
3 pro tips for people wanting to do this:
1. Have proper hiking/trail shoes as the climbing and descents can cause a lot of blisters.
2. Take swimming shorts for the waterfall pool about halfway!
3. Take a buff to emerge in the water along to keep you cool during the heat! There's very little shade on this hike!
______________________
Have a micro adventure you want to share? 
Submit it
HERE

__________________
____